When I got the news that we were going to get a Nokia Asha phone for review, I thought that it was a good time to try out a back to basics feature phone. I didn't know what the expect from the phone, since when ever I did see the phone at Nokia World and MWC, it was for a few minutes of hands-on time. Not enough to experience the phone. Now's the chance to take the phone for a full "test drive".
A Quick Overview of the Asha 300

The Nokia Asha 300 runs on Nokia's Series 40 OS. Even though this phone is categorized as a "Feature Phone", the Asha 300 sports a 1Ghz processor with a resistive touch screen. In terms of Network connectivity, it is a Quad band phone which can with 3G support which supports speeds up to 10Mbps though HSDPA. There's a 5MP camera to take snaps when you're on the go. This phone also supports USB OTG, so you can connect your thumb drives to this phone to transfer data in or out of the phone. Bluetooth capabilities is also available. One feature I missed seeing on this phone is WiFi connectivity.
The phone comes with 128MB onboard memory, but you can expand that additional memory cards.
The phone also has a regular telephone keypad. This was going to be a challenge for me, since the it's been some time since I used a phone (on a daily basis) with this keypad. Ever since the Nokia E61i came out in India, I've either been using a QWERTY keypad or a touchscreen phone as my primary phone, so getting back to the basics and re-learning T9 typing could be a challenge here for me.
Design & Build
Even though this phone is priced at around INR 6200, the phone certainly doen't look cheap at all. The phone is quite sleek and weighs just 85 grams, which is not too heavy. Even though the body is mostly plastic, the Call, Messaging  and the End Buttons on the front of the phone have a Chrome finish. This is one area where Nokia certainly has an edge over their competitors. They're really good in the design section, making this phone look good. The phone comes in two colors – Graphite (Grey) and Red.
Screen, UI &  Input
The Asha 300 sports a Transmissive LCD display with a resolution of 320 x 240 pixels, which is also a resistive touchscreen. The screen is bright enough for regular use and is also quite usable in sunlight. You don't have to squint to checkout the screen when you're out in the day time.
The UI is the standard Series 40 touch interface which features a homescreen where you can place your favorite widgets as Shortcuts for frequent tasks. Here's where the resistive touchscreen acts up at times. Sometimes which sliding my finger across the screen to scroll, the phone ends up clicking on an item and opening it instead of scrolling. This didn't happen too many times, but the one offs were a tad bit irritating.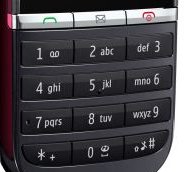 After a few days of using it, my tying speeds did increase considerably. This could be because of my earlier T9 typing days. I guess it comes back after some practice. I don't have any complains on the keypad. It worked like a charm after getting some practice.
I had quickly relearnt the old shortcut keys. Long press the # to toggle the phone beween silent mode and back, and a long press on the * key to toggle bluetooth.
Connectivity
The 3G connectivity on this phone is great. I just dropped in my Airtel card into the phone and was up and running on 3G speeds in a few minutes (the amount of time it takes to get the settings on the phone through SMS).
Even if you are on a slower EDGE connection, if you use the bundled Nokia Browser to surf the web, you get a slightly faster experience. Nokia Browser works on a proxy technology, where when you surf the web, the data is actually routed through Nokia's servers which compresses the data and send it to your phone. This increases your browsing speed, even on slower connections, and save your bandwidth since you receive only compressed data.
The Asha 300 comes with a Micro-USB connector which you can use to hook the phone up to the computer to charge and transfer files. If you do get a micro-USB OTG cable (you'll have to buy one separately), you can even connect your flash thumb-drives to the phone. If you're trying to hook up your harddrive to your phone, you can forget that. Most of the phones, the Asha 300 included, don't support filesystems other than FAT32, so bigger drives may not be accessible since they may not have FAT32 partitions.
You can also use Bluetooth to transfer files in and out of the phone, and connect to bluetooth accessories as well.  So apart from the missing WiFi, this phone cover most other connectivity options.
Camera, Multimedia & Apps
The 5MP camera on this device is not the best of breed. Nokia's been a pioneer in mobile phone camera technologes, but that hasn't really come out on this device. The still photos taken on the phone may look good on the phone screen, but doesn't look that great when you transfer it and view it on the desktop. I know the argument for this would be that the Asha is not a smartphone with Carl Ziess optics, it's a sub Rs. 10000 phone. But then I've seen some other phones in this price segment with better camera output. The phone's video recording is at 640 x 480 at 30 frames per second. Not too great spec wise.
The Asha 300 does have a loud speaker, if you're listening to music on the phone, you can share you music among your buddies by using the phone's built-in speakers instead of the headphones. The phone also supports most major audio codecs, so you just need to transfer your music across and you're set.
A few apps and games, notably Angry Birds, comes bundled along with the Asha 300, but you're not limited to what comes with the phone. You can head out to the Nokia Store to get more apps for your phone.
Battery Life
This is one place the phone really shines. This phone lasts a long time on one charge. The Asha 300 is a perfect travel companion, since it's not a power hogger, and you can depend on it to last for more than a day. So when my smartphone is on it's last legs 5 hours into the day, the Asha 300 comes to the rescue.
Wrap Up
If you're looking to upgrade from a basic phone, the Asha 300 is a phone to checkout. The phone retails on the Nokia Online Store for around Rs. 6300. If the Asha 300 came with WiFi and a better camera, this would have been a real killer phone in it's price range.