In the first Lumia launch in India after the Nokia Mobile division acquisition, Microsoft Devices today launched the Lumia 630 in India. The Lumia 630 is the first device which comes with Windows 8.1 out of the box, and to top that off, it's also the first Lumia with Dual SIM capability. The 630 will be available in India as two variants; the Dual SIM will hit the stores first at a best buy price of Rs. 11,500 and the single SIM version will be available later for Rs. 10,500.
Quick specs of the Lumia 630
[table th="0″]
Display, 4.5 Inch Clear Black FWVGA (854 x 480) screen
Processor, 1.2GHz quad-core Snapdragon S400
Memory, "512MB RAM,  8GB internal memory onboard, MicroSD up to 128GB + 7GB Cloud Storage on OneDrive"
Camera, 5 MegaPixel Autofocus rear camera
OS, Windows Phone 8.1
Dimensions, 129.5 x 66.7 x 9.2 mm weighing  134 grams
Colors, "Bright Orange, bright green, bright yellow, and white and black"
Connectivity, USB 2.0 | Bluetooth 4.0 | WiFi | 3G Network | A-GPS and Glonass | 3.5 mm audio connector
Battery, 1830 mAh removable battery for a rated talk time of 13.1 hours on 3G and standby time of 25 days
[/table]
Highlights of the Lumia 630
The  Lumia 630 features quite a few firsts in the Lumia Range of phones. As we mentioned earlier, this is the first to come with Windows Phone 8.1 factory installed. So you get all the Windows Phone 8.1 goodies like the Notification bar, Word Flow Keyboard, Third Row of tiles on the home screen. Did you know that the Guinness Record holder for the fastest texting using an on-screen keyboard used a Windows Phone 8.1 device with Word Flow?
This is also the first in the Lumia range to ditch the capacitive button at the bottom of the phone, and feature on screen buttons. The good thing here is that you can customize the color scheme for these buttons now, as evident from the screen below.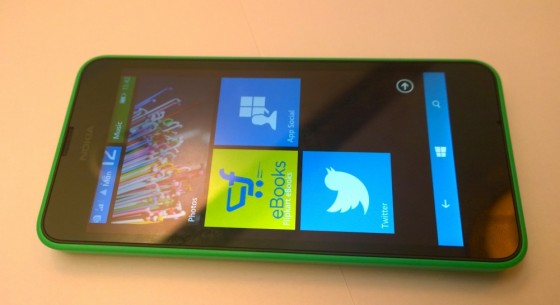 It's also the first Lumia with Dual SIM capabilities. The 630 also comes with a new SensorCore which allows the device to track motion for health apps like Bing Health and Fitness. The SensorCore is very low powered and won't take up much power at all even if it tracks your activities all day.
The Dual SIM features on the phone come with a Smart SIM feature allowing you give a custom name each of your SIMs. The Message and Phone call logs for both SIMs can also be linked to give you a single view of all your activities across both SIMS.
Overview
Positives
The Lumia 630 comes with a lot of features packed in at the mid-range price point they are launching the phone at.
The Quad Core processor on the phone makes it run snappy. In fact, after playing with the device for a while at the launch event, I would have to say that the phone was well powered, not displaying lags at all. In fact, the Microsoft/Nokia folks featured a demo showing two of the competitors in the same price range choking with on a browser demo which worked well on the Lumia 630.
The build quality is in lines with the Nokia heritage of the device of sturdy but stylish devices. The bright colors options which they come in are meant to appeal to the youth. For oldies like me, give me a white or black any day.
The SensorCore continuously monitors motion data allowing health apps to track your activities, allowing you to track your fitness activities without investing on a separate health monitoring wearable. Initially you can use Bing Health and Fitness to track your progress, Microsoft will be exposing API to this for third party apps to use this data as well.
The Smart Dual SIM features are a welcome addition to the Lumia range. Also, the phone comes with an option to add additional storage via a Micro SC card. With Windows Phone 8.1, you can move your apps and data over to the Micro SD card to better manage the use of your storage.
Negatives
Apart from these plus points, there are a few negatives which I would like to highlight. Not all may see these as negatives, but if you are a spec hunter, you'll find them missing on the 630.
The device doesn't come with a front camera, so if you are someone who takes a lot of selfies or uses Skype for video calls, this may be a disappointment. Even though the phone takes good quality pictures with normal indoor and daylight conditions and features the brilliant Nokia Camera App, the phone lacks a flash if you need that for night shots.
The display Clear Black display is quite good, and has a large viewing angle but unfortunately, is only a FWVGA screen which means that it's resolution is 854 X 480 with a pixel density of 218 pixels per inch. It would have been great if they had managed to pack in at least a 720p display in here, since some competitors in that price range feature that.
The 630 also comes only with 512 MB RAM on the phone. Even though Microsoft says that almost all the apps on the store should work on this configuration, there may be one or two games which may choke on this. Of course, if you are not a heavy gamer, you can ignore this shortcoming, since it won't affect you at all.