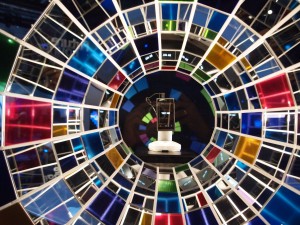 During the Nokia World event which took place last week, even though there were quite a few releases from Nokia, the Nokia Lumia range of phones took the centerstage.The much awaited Windows Phone range from Nokia was finally launched with great fanfare. In fact, Nokia went ahead to announce that this was the Lumia 800 is the "First Real Windows Phone", to which Microsoft actually went on record to say that it's a fair statement.
We also got to use the Nokia Lumia 800 for three days before we had to reluctantly return it back. So here's what the Lumia 800 has to offer and my impressions about the phone.
Let's start with the specifications of the Nokia Lumia 800:
Build quality
For many of you who've already got your hands on the Nokia N9 handset, the Lumia 800 is pretty much running on the same body. I love the materials on this device and how it feels in the palm of my hands. I just feels like one sturdy device!  The body of the phone feels like it's made of some space-age material, which feels soft to touch but is supposed to be scratch proof and is not a fingerprint magnet.
You can get you Lumia 800 in 3 different colors – Black, Cyan and Fuchsia. What's your choice of color? When I get one, I'm going for the Cyan!
Processing Power
The device is powered by a Qualcomm MSM8255 processor running at  1400 MHz. This System on a Chip (SOC) comes with a dedicated Graphic Processing Unit (GPU) for graphic acceleration. Just enough juice in here to keep the phone running smoothly. In fact, when most people were asked how they felt about the phone after interacting with it,  "it's as smooth as butter" was the general opinion. I too felt the same way about it.
Memory & Storage
The phone comes with 512 MB program memory and 16GB onboard storage. Windows Phone also allows you to extend your storage by using Microsoft's Skydrive Online storage. Once you sign-in with your phone, you get 25GB of online storage free. You can use this online storage to backup media and data from  your phone if you're running short at any time.
Connectivity
The Lumia 800 provides these connectivity options:  WiFi, Micro USB,  Bluetooth,  USB 2.0 High-Speed,  3.5mm Audio Connector and Bluetooth Stereo Audio, . Here's an interesting fact for you. This device like the N9 comes with a Micro-SIM slot. So if you're planning on trying it out, make sure you get a Micro-sim to use with this phone.
Even though NFC featured quite a lot in Nokia World 2011, the Lumia 800 doesn't come with a NFC chip. That's not a problem yet, since most of the Audio accessories like the Play 360° also work with Bluetooth, so you'll not miss out on trying these great accessories along with your phone.
Display and Screen
This phone comes with a 3.7 inch AMOLED ClearBlack touchscreen capacitive display with a resolution of 800×400 pixels. Like with the N9, the screen is curved around the edges of the phone, which does give a nice feel to it while interacting with the screen. The images rendered on this screen are clear and stunning. You have to take a look at it to fall in love with the clarity. This along with the 1.4Ghz processor give the Lumia 800 it's smooth as butter feel.
Camera
This phone like most Nokia flagship devices features Carl Zeiss optics. There's a 8MP camera on board which is capable of 720p HD video recording. The camera is easy to use and does take quite good pictures for day to day use.
The Windows Phone OS also comes with the capability to sync up images you take on your device to your Skydrive account. The only hickup to this service I noticed is that it only backs up media you capture from the time you activate the option in your camera settings. The older media from you phone doesn't get synced automatically if you turn on Skydrive sync after you've taken a few pics already.
One main missing feature is the lack of a front-facing camera. This doesn't affect me much, but people who use video calls, chats and conference will find the missing camera a pain point on the Lumia 800.
If you're looking for samples from the Lumia 800's camera, I've uploaded a few to Flickr. I didn't play around with the camera settings much. I'll do that when we get the actual review devices soon and upload more there.

Social Media and Integration
As soon as you've got your phone running, you can add your Twitter, Facebook and LinkedIn account. Once you've done that, updates from your contacts automatically start trickling into the People's menu on the phone. So you can get the latest updates from your contacts across these three networks in one place, without having to switch through applications. The other cool thing is to check out the "Me" block on the Windows Phone menu. Replies, messages and tags of you are automatically populated in this section so you can reply back to your contacts in one screen. This I though was one of the best features of the Windows Phone OS. All this without installing a third-party app. You can of course go ahead and install third party apps for these networks as well for the full blown features.
Nokia Music
Another cool feature we saw featured on the Lumia 800 was the Nokia Music client with Mix Radio. Mix Radio is a new feature which allows you to stream pre-set music genres to your phone. Even cooler is the fact that you can move this "offline" by downloading the mixes to your phone, so you can enjoy music when you're out of WiFi coverage. Don't go streaming music on 3G, unless you've got unlimited data plans.
If you are looking for a video demo if this check out the video we took of Dean Pattrick showing us the service.
Nokia Maps and Drive
Another feature unique to Nokia's Windows Phone range is the availability of free turn-by-turn navigation using Nokia Drive and Nokia Maps for finding interesting places around you. Here's the video showing the demo of Nokia Drive and Maps.
Work outside your physical Office
Though this is a feature centric to all Windows Phone 7 devices; Office, Exchange and Lync are a great enabler for work on the go. You can easily view and edit documents, spreadsheets and powerpoints straight off your phone. You can also use your company's Exchange mail servers to connect to your office mails and contacts. Lync also further improves communication with your teams with IM and audio conferences. The perfect way to work when you're on the move. You don't have to boot up your PC for most daily tasks once you're on a Windows Phone.
Final Roundup
Pros
I loved the build quality of this device, it felt good and sturdy. It didn't have that plasticky feel like on a lot of other phones. The phone just feels so comfortable in your hand.
A really clear, crisp and vibrant display. Makes it readable in the daylight and night.
The camera is decent for day to day point and shoot photo, but nothing to beat the Nokia's N8 though.
I loved the Nokia Maps and Music apps which were bundled along with the phone. Maps made searching for places and info so easy. While the Music app's Mix Radio is a great feature to explore new music, even when you're on the go. You're not stuck to music you've collected.
I absolutely loved the Social Network integration in the device in the People (or contacts) screen and the "Me" screen. It made replying to Twitter, Facebook and LinkedIn conversations so easy. Even the photo sharing with Social Networks was so easy to use.
The 1.4 GHz processor does make the interfaces and apps run real smooth. It just makes navigating though the phone so much more smoother lending to a good experience overall.
Office Apps on the phone for Work on the Go.
I love the fact that Nokia is packing a case for the phone along with their Sales package. You don't have to shop for one as soon as you get your phone.
Cons
No NFC – I was really looking forward to having NFC on this given the great looking NFC gear we saw at Nokia World. Oh well, it's a consolation that these NFC accessories work via regular Bluetooth as well.
Lack of a front facing camera – I don't use it on a regular basis, but will miss it on the occasional Skype Video calls. get on to.
No expansion slots for extra MicroSD cards, in case you run out of your 16Gb of storage.
I would say that this device was well worth the wait from Nokia, and has the potential to help Nokia regain their lost market-share in the Smartphone segment. For users in India, this phone should hit our markets some time in November or December. We'll let you know more when we get the details. For more information about the phone, head over to
Nokia's product page
.
Unboxing Video
Image Gallery
Credits: Thanks to Aditya Singhvi for allowing us to use some of his images and 
the unboxing video. I lost some of mine which I captured due to a corrupt
memory card in transit.